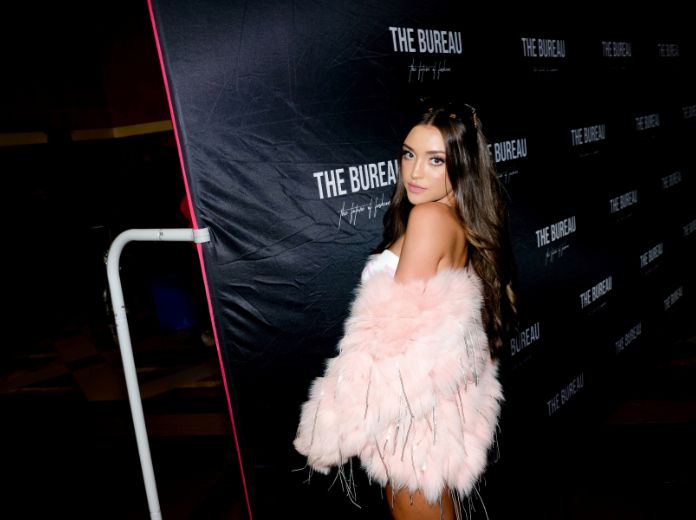 The runway, where models walk representing various clothing houses and designers, is a dreamy path for every model or wishes to be one. This stage, also known as the runway, shares a unique connection with everyone in the fashion industry. It adds wings to their dreams to take off to new heights and take charge of their ambitions. And so, it becomes an inseparable part of the lives of models and designers alike.
Something similar is the story of Presley Elise, a sensational model who is taking her first steps on the runway after a one-year hiatus. For Presley, re-embracing the runway and the spotlight is nothing short of a graceful moment that, I am sure, must remind her of the cheers and applause she had lived in the past. Setbacks may intervene, but emerging from them stronger and pursuing dreams with even more zest is the mantra she appears to believe in. So, the Baton Rouge beauty has once again graced the fashion world, setting the runway ablaze at LA Fashion Week – The Bureau Fashion Week.
Those who have seen her walking on the runway would agree with me if I say Presley Elise is a name synonymous with charm and elegance as she has never missed a chance to mesmerize the audience all through her remarkable journey in the glittering fashion world. While she jet-sets across the world to chase her passion, she loves to spend time in Baton Rouge, Louisiana, and it keeps her grounded despite traveling so much. She shares her life and all things related to fashion on her social media accounts, including Instagram and TikTok. That being said, I encourage you to visit her profiles (@itspresleyelise) on these social media platforms to connect with her.
On the fine evening of Saturday, 14th October, all eyes were glued to the Union State in Los Angeles, California, as Presley Elise was set to make her return on the runway donned in elegance. This event was a double delight for Presley as she made her comeback grand by catwalking not just for one but two incredible designers, proving that her allure and modeling prowess had only risen in the meantime. The designers she represented on the runway consisted of teenage sensation and a close friend of hers, Isabella Barrett. Isabella operates a clothing line known as 'House of Barretti.' To explore her fantastic clothing collection, you can find her on Instagram at @isabellabarrett123 and @houseofbarretti.
The fashion extravaganza continued with Presley's second appearance on the runway for a globally renowned luxury couture brand called 'Drisha Closet.' The clothing brand specializes in customizing outfits that augment those special and unforgettable moments. You can take a moment to visit their Instagram handle at @drisha_closet to explore their amazing collection. Talking about Presley strutting the outfit from this brand, she added a touch of magic to their creation.
Everyone witnessing Presley catwalking could feel her joy and emotions on her comeback. She says, "I am thrilled to be back; I can't wait to see what the future holds in store for me. Being on the runway is like nothing else; it's my passion." Her enthusiasm is infectious, and it's undoubtedly true that both the runway and fashion enthusiasts missed her presence.
While this was a wrap for Presley, you can see more of her scintillating catwalks as she's not slowing down anytime soon. So, mark your calendars for her next appearances in Dallas Fashion Week – The Bureau Fashion Week, happening on October 21st, where she will be walking for two amazing designers: Kishme and Krissy King, The Label. That's not enough yet. She will be walking on the runway for more upcoming renowned and prestigious fashion events, which include New York Fashion Week, Milan Fashion Week, Miami Swim Week, and Paris Fashion Week.
With a lot more opportunities in the future and a passion for conquering the dreams, her comeback has already proven that this runway belongs to her.