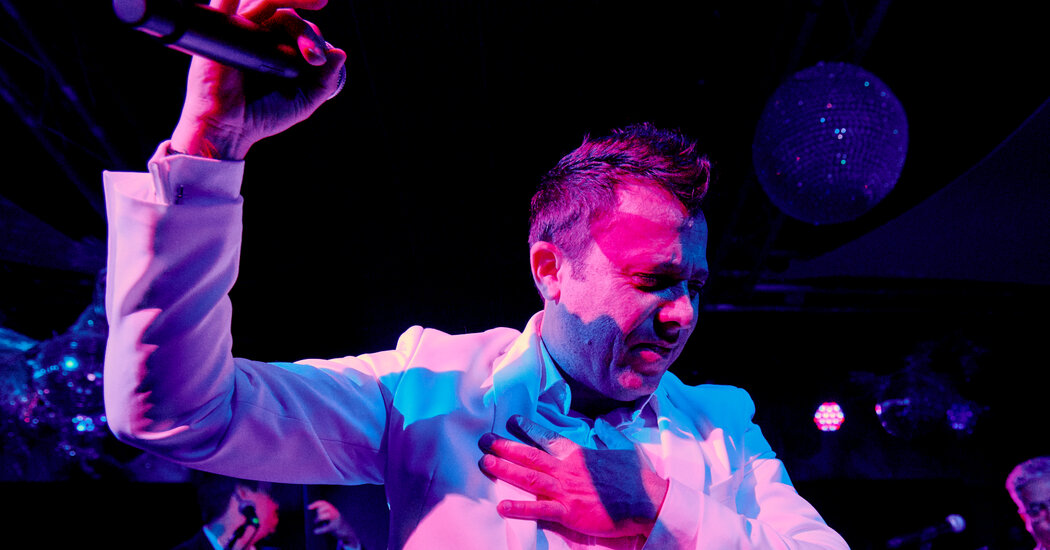 Alison Leiby has written for late-night topical TV on Comedy Central ("The Opposition With Jordan Klepper," "The President Show") as well as for the prestige period series "The Marvelous Mrs. Maisel" on Amazon Prime Video. In between, she has helped Ilana Glazer behind the scenes, punching up scripts for "Broad City" and producing Glazer's first stand-up special for Amazon. Now Glazer is returning the favor by presenting Leiby's Off Broadway debut, "Alison Leiby: Oh God, a Show About Abortion."
This recent work is Leiby's most personal and political, and offers a cleareyed, observational view of her own experience. As Jason Zinoman wrote when reviewing a version of the show at Union Hall last year, "Without a trace of didacticism, she finds humor in the messy, confusing, sometimes banal experience of an unwanted pregnancy and an abortion."
Previews started on Monday at the Cherry Lane Theater. The run officially opens on May 5 and ends on June 4. Tickets start at $37 and are available at ohgodshow.com.
SEAN L. McCARTHY
Despite its name, the weekend-long TILT Kids Festival doesn't include whirling rides or roller coasters. It still promises, though, to send young participants in exciting directions.
Produced by the French Institute-Alliance Française, this fair is returning live to the organization's Manhattan headquarters for the first time since 2019. A $25 pass, required for each attendee, provides admission to the activities, which are all in English and celebrate nature.
On Saturday at 11 a.m., Roxane Revon will lead Sprouting Colors, a drawing workshop in which tuberous potatoes inspire art. At 2 p.m., People of Earth will play a world-music concert, and at 4, Broken Box Mime Theater will perform "Destination: Nature," calling on audience members to portray animals.
On Sunday, the actor Jay DeYonker will read from Antoine de Saint-Exupéry's "The Little Prince" at 10:30 a.m., followed by a workshop to build crowns and paper airplanes. At 2 and 2:45 p.m., children can make flower arrangements with Agnès de Villarson.
Creativity will also flow all weekend in Aquatic Wonderland, a collaborative art project that Emma Giuliani will base on her picture book "At the Sea." From 10 a.m. to 5 p.m. each day, kids can dive in.
LAUREL GRAEBER
The original songs on Orquesta Akokán's two albums for Daptone Records (a self-titled 2018 LP and "16 Rayos" from 2021) revive the sound of prerevolution Cuban son and mambo, some of the most subtly powerful pop music of the 20th century. Written by the group's three founders — the New York-based producer and guitarist Jacob Plasse, heard on these albums on the Cuban tres; the Arizonan pianist Michael Eckroth; and the Cuban-born vocalist Jose Gómez, known as Pepito — these fine tunes wriggle to life in a band filled with A-list Havana musicians.
You'll be forgiven for noting here that YouTube exists. It's just as easy to go back and listen to Machito, Celeste Mendoza or Arsenio Rodríguez. What you can't do is see those old masters live, which was almost entirely the point. This is where Orquesta Akokán gets most exciting. The group will appear Friday at the Knitting Factory in Brooklyn on a bill that also includes the bullerengue collective Bulla en el Barrio. Tickets are $25 and the show starts at 8 p.m. See if you can find a spot on the dance floor.
GIOVANNI RUSSONELLO
Film Series
Hot Pursuits, Cool Looks
You've seen Brian De Palma's "Blow Out"? "Diva" is the other major film of 1981 (released in the United States in 1982) that involves a protagonist with a hot-potato audio recording, or technically two: Jules (Frédéric Andrei), a postman and opera fan, secretly records a star vocalist, Cynthia Hawkins (the real-life soprano Wilhelmenia Wiggins Fernandez), who makes a point of only singing live, at a performance in Paris. Soon after, he unwittingly comes into possession of another tape that could expose an international drug-and-sex-trafficking operation.
But the crazy convolutions of the plot are hardly the point. "Diva," directed by Jean-Jacques Beineix, who died in January, is perhaps the film most identified with a trend in France that became known as the cinéma du look, movies for which visual style and attitude left the prevailing impressions. In a print showing at Film Forum starting on Friday, the shades of blue are dazzling, and an elaborate chase through the Paris Metro is pretty exciting, too.
BEN KENIGSBERG
Free evenings at the city's museums can sometimes offer a lot more than a mere gratis stroll through the galleries. This week, the Rubin Museum will restart its K2 Friday Night series, a weekly event that begins at 6 p.m. and features not only free admission, but other activities, including exhibition tours.
This Friday at 7:30, K2 will host a program that explores how to cope with anxiety, with a talk by Dr. Tracy Dennis-Tiwary, author of the coming book "Future Tense: Why Anxiety Is Good for You," and a complementary sound bath. (The program is currently sold out, but two hours before it starts, you can sign up for standby tickets at the museum's admissions desk.)
Through 10 p.m., you can also have a drink at the museum's cafe and enjoy the music of D.J. Luna Rosa. Reservations are recommended and can be made at rubinmuseum.org; those without reservations will be admitted on a first-come-first-served basis.
MELISSA SMITH